On-site tests on the PROTEAS Instrumentation at the National Gallery -Alexandros Soutsos Museum in Athens
A series of on-site tests of the PROTEAS instrumentation were performed by PhoHS team of IESL – FORTH researchers at the premises of the National Gallery – Museum of Alexandros Soutsos on 6-9 June 2023.
The PhoHS team of IESL – FORTH , investigated the implementation of the analytical imaging methodologies and the devices customised by IESL in the context of the PROTEAS project, namely the HyperSpectral (HSI) and the Short Wavelength InfraRed (SWIR) Imaging systems, on an oversized painting by A. Vruntzos entitled "Akanthinos Stefanos". This artwork, measuring 300×180 cm, belongs to the collection of the project partner National Gallery – Museum of Alexandros Soutsos and was created in 1878. The study also aimed to analyze and map the materials applied to the painting as well as their stratigraphy and compare them with other oversized paintings of the same era from the collection of National Gallery – Museum of Alexandros Soutsos, such as the masterpiece of C.L. Muller's "March 30, 1814" which is the main object of study within the PROTEAS project.
Post-processing of the acquired data follows and the study results will be disseminated within the next months.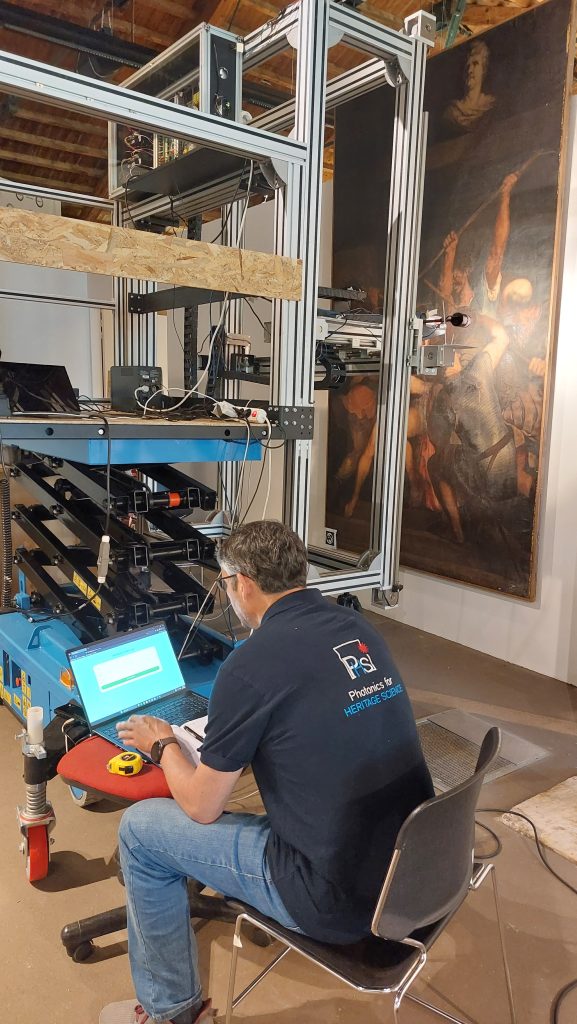 The PROTEAS project is co-financed by the European Regional Development Fund of the European Union and Greek national funds through the Operational Program Competitiveness, Entrepreneurship and Innovation, under the call RESEARCH – CREATE – INNOVATE (project code: T2EDK-02428).